Amherst Artisan Gallery
Amherst Centre Mall
70 artisans, one of a kind, handcrafted pieces

John Warner - Framed Photography
Harvey Haynes - Metal art
Ann Murphy - Painting
Peggy MacKenzie - Painting
Wendy Price - Photography, Cards
Bruce Hebert - Painting, Carving
Arlene Collins - Painting
Tammy Connors - Antique woodworking


Amherst Centre Mall
142 South Albion Street, Suite 103, Amherst, NS
amherstartisangallery.com



Christian Corbet

Diane Melanson-LeBlanc

Atlantic Pottery

Sculpture, Paintings, Pottery

Christian Corbet
Joel Aldred

Diane Melanson-LeBlanc
Brooke Oulton
Katherine Marlin
Peter Cooke
Joel Baylis



382 Main Street, Sackville, NB

Mona Aslam

Painter

44 West Ave., Sackville


Blue Heron Gallery
Faye Webb Pike
- Painter

11 Beaton's Bluff, Route 366, Lorneville


Patty Chassé - Weaver

490 Route 935, Wood Point, NB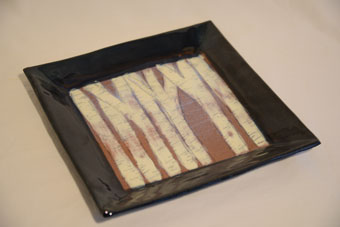 Kaeli Cook
Kaeli is a young potter who has graduated from the NB College of Craft and Design in Fredericton. Her work is greatly inspired by all of the beaches she has explored across Canada. Kaeli's studio is tucked away in the marsh on Squire Street.

37 Squire Street
Sackville, N.B.
kaelicookpottery@gmail.com
Phone: 536-9081

Marilyn Cook

The whimsical designs and bright colours of Marilyn's silk paintings will always bring a smile. Hangings, scarves, clothing and more. 1km. from Hwy.15 on route 950
.


Marilyn Cook
42 Crescent St., NB
Phone: (506) 577-4682
Email: cooksilk@nbnet.nb.ca
www.cooksilk.ca

Gabrielle Cormier - Painter

171 Main Street, Sackville, NB


The Craft Gallery - Various Artists

34 Mallard Dr., Sackville, NB


Hunter Street Silver
Jennifer Hunter
Handcraafted Spoon Jewellery

30 Charlotte Street, Sackville, NB



Ghita Levin
Ghita's studio/gallery is situated overlooking the beautiful saltmarshes of Baie Verte. These surroundings have a great influence on her work. Ghita uses a variety of techniques, including wood firing, to make her sculptural and functional pottery.

Ghita Levin Pottery
573 Route 970
Baie Verte, NB
E4M 1N9
Phone: (506) 538-2933
www.ghitalevinpottery.ca



Robert Lyon - Painter
Katherine Hicks Lyon - Jewellery, Weaving, Soaps
Robert & Katherine's Studio/Gallery features original watercolours, Giclee prints and notecards depicting their interpretations of natural history. Robert's paintins of birds and plants have been featured with Canadian Wildlife Service & Nature Conservancy Canada. They also have a line of clothing for adults and kids feautring Nature and Celtic themes. Open to the public: Monday-Friday 9-5pm

Robert Lyon Graphics
10 Weldon Street
Sackville, NB
Phone: (506) 536-1904
Email: roblyon@nbnet.nb.ca
www.robertlyongraphics.ca

Rachel Morouney
- Potter


Bob Morouney

- Printmaker

136 Moore Rd. Extension, Otter Creek, NB



Dennis Reid
After completing his B.F.A. (Bachelor of Fine Arts) at Mount Allison University, Dennis moved to Dorchester NB, where he now lives and paints. Oil is his medium of choice. As a medium it provides him with the flexibility to explore subject matter, and to experiment with the process of painting itself. Much of his painting focuses on landscape imagery for its base, but quite often there are other elements whether they be figurative or still life, that find their way into the work.

Fine Art Studio & Gallery
4979 Main Street
Dorchester, NB
E4K 2Y3
Phone: (506) 855-7422
www.DennisReid.ca


Donna Rawlins Sharpe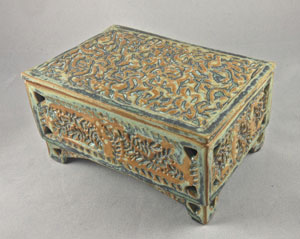 Margaret Ann Capper
Donna Rawlins Sharpe
- Painting
Donna's paintings combine elements of Japanese and Western art, using various drawing/painting techniques, to capture the essence of the small, everyday things we see, but take for granted.



Margaret Ann Capper

- Pottery
After receiving a BFA in 1977, Margaret Ann apprenticed with Crimmons Studio and then taught at the NB College of Craft and Design. Her functional stoneware uses rich glazes to enhance the texture of her pottery.


22 Harris Drive, Sackville
Phone: 536-1062
Email: info@donnarawlinssharpe.ca
Web: donnarawlinssharpe.ca



Wanda Seely - Painter

153 Victoria St. East, Amherst, NS


Shari Mallinson Gallery
Shari Mallinson - Painter, Illustrator, Photographer, Sculptor, Designer
Stan Hembrough - Photographer
A Nova Scotian art gallery experience in the heart of Amherst's Historic Downtown District. The gallery showcases contemporary Canadian artists and their top, curated work. It also hosts a variety of artist talks, classes, live drawing and painting, workshops, musicians and events. The gallery features original paintings, Giclee prints, art notebooks, sculpture and art printed kimonos.
The gallery is located next to Dayle's Grand Market.
Shari Mallinson Gallery
127 Victoria St., East
Amherst, Nova Scotia
sharimallinsongallery.com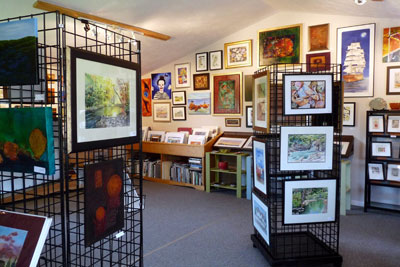 Tidnish Bridge Art Gallery
We are an artist co-operative selling our art and sharing our skills. Our members include:

Charlie Atherton – Pottery
Laurell Hamilton - Painter
Melanie Landau - Pottery
Diana Vertis McIsaac - Painter, Photographer
Bob Morouney - Printmaker, Potter, Painter
Cathy Thurston – Painter, Photographer
Harry Thurston – Writer
Doris Daigle – Painter


Tidnish Bridge Art Gallery
3654 Highway 366, Tidnish Bridge, NS
(junction of Highways 366 & 970)
Phone (902) 667-8555
Email tidnishbridgeartgallery@gmail.com
Check out www.tidnishbridgeartgallery.com
Follow us on Facebook!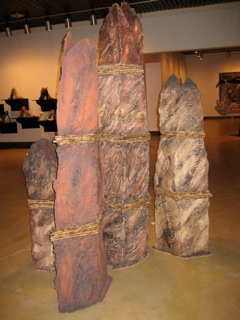 Indu Varma - Painter and Sculptor

Salt Marsh Studio
Indu Varma is a visual artist who uses multiple media to express her ideas. She has studied ceramics at Université de Moncton for three years. In her newly set up "Salt Marsh Studio" she intends to let her creative spirits roam as she paints and creates interesting textures in clay. Her work is inspired by nature, global events, and the struggles of daily life. Her creative clay sculptural pieces invite you for a visit and reflection.

Salt Marsh Studio
Indu Varma
11 Wellington Street
Sackville, NB.
Email: ivarma@mta.ca




Elizabeth Vanderleelie - Textile Artist

121 Barren Ground Hill Rd., Westcock, NB